Today was the last actual conference day of VeeamON 2014.
The reason I write the last actual conference day is because the Veeam Certified Engineer class still continues tomorrow Thursday.
As all other days I started with breakfast and once again it was incredible quality!
Today it was eggs & bacon among other goodies!
Veeam Certified Engineer training got kicked off again at 8:30 and breaked at 10:45 for the keynote.
The big secret Veeam has been holding onto for the last keynote was out of the bag:
Veeam Endpoint Backup, please see my separate blog post on that.
Another two things to be announced was the winners of Labwarz and VeeamON Game:
The winner of Labwarz was Ideen Jahanshahi.
I had a chance to talk with Ideen and one of the things he thought had really helped him on Labwarz was actually attending Veeam Certified Engineer training previously.
While he had not yet had a chance to try to pass the VMCE v7 exam – I am confident he should not have problems passing it 🙂
The winner of the VeeamON Game – for the title of VeeamON Mayor 2014 was… Rasmus Haslund… Yes that's me 🙂
There was some fierce competition for collecting points but in the end I managed to keep it honest and kept submitting valuable content.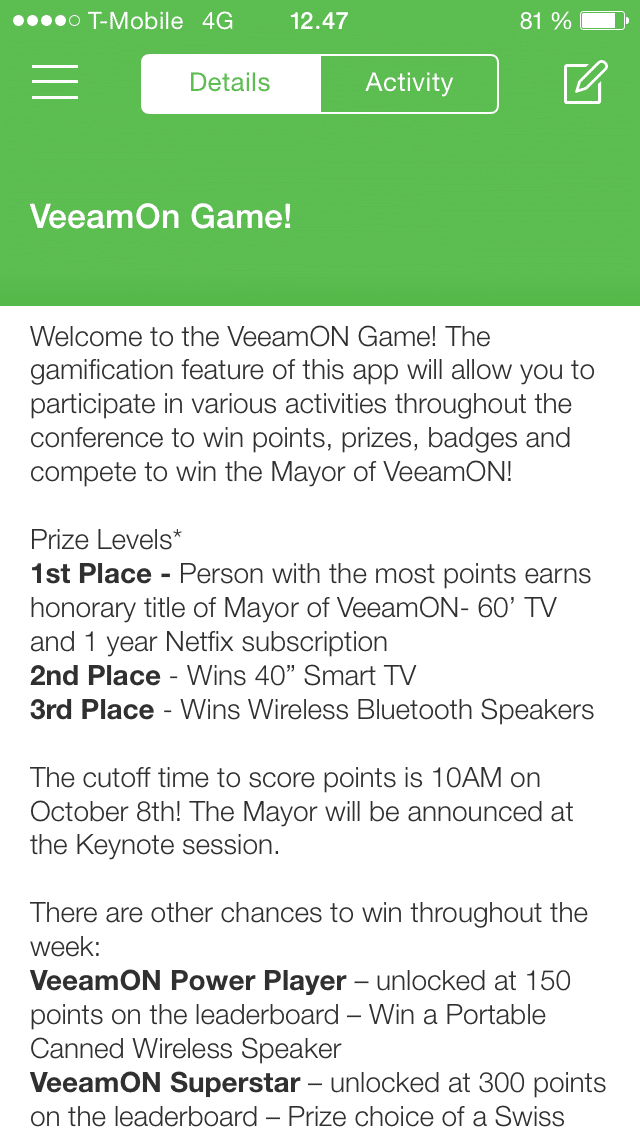 After keynote finished, I went for some lunch and VMCE kicked off again.
Today Justin Current, who had been teaching the class until now, was kind enough to let me teach module 7 on verification (SureBackup/SureReplica).
I really want to congratulate the entire Veeam VMCE team on a fantastic job on the Veeam Certified Engineer materials, especially Anton Mamichev, Emeric Pillet and Justin Current.
Final thoughts
Congratulations Veeam Team! You guys really outdone your self with the VeeamON 2014 conference.
Choosing Las Vegas (always-on city) was perfect!
The food was constantly higher quality then anyone would have ever expected from an IT conference.
Brilliant people presenting the breakout sessions (hat tip to Preben Berg and Tom Sightler's session: "From basic to advanced design" – in my opinion best session of the conference).
I look forward to VeeamON 2015 with higher expectations than ever!