Today I took a shot at passing the 74-409 exam "Server Virtualization with Windows Server Hyper-V and System Center".
As the title suggested the exam is testing on Hyper-V and System Center skills.
I thought it had a good mix of both.
Previously I have taken many Microsoft exams, but the format was new to me.
There was a good mix of both multiple choice, check all that apply & drag and drop questions.
I really enjoyed the new format and believe it is good to see Microsoft moving forward in this direction.
As preparation in advance I used the FREE training materials made available by Microsoft online at Microsoft Virtual Academy (MVA).
I thought Symon Perriman and Corey Hynes did a great job as they have also done previously.
Microsoft is also kind enough to provide a 100% free exam voucher.
You can grab your personal voucher code from here. Just make sure you schedule the exam before June 30th 2014.
70-409 exam result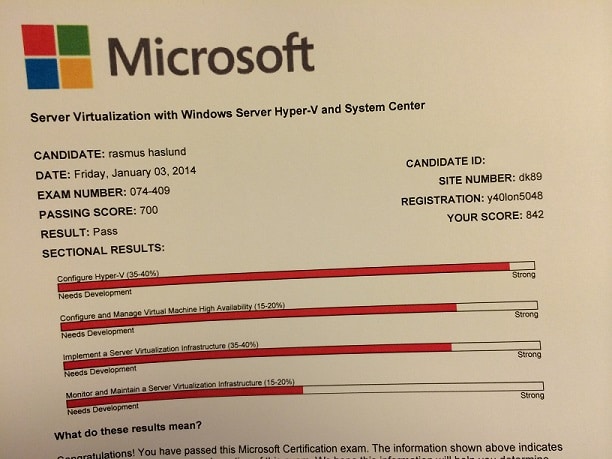 Are you considering to take the 70-409 exam?
Let me know in the comments!
Incoming search terms: