This week a customer called me. He was unable to Storage vMotion a VM from one datastore to another in his VMware ESXi 5.1 environment.
The error shown was: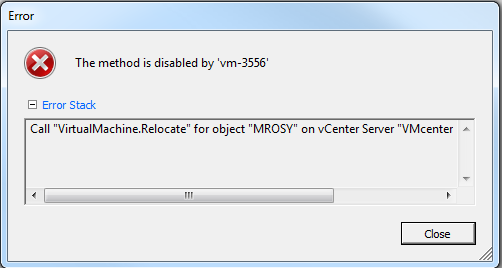 The method is disabled by 'vm-3556'
My first suggestion was to perform a regular vMotion to a different host and then retry. Unfortunately this did not help.
A Google search turned up a VMware knowledge base article which suggested that either a backup for this VM was still running or had not cleared the lock on storage vmotion. The article suggests some changes where they recommend backing up your vCenter database.
Instead of following the article I suggested my customer to re-run a backup of the VM and then retry storage vmotion.
After the backup completed with success it was possible to complete storage vmotion without issues.
As always, if this helped you it would mean a lot to me if you left a comment! 🙂