Today I had to open a support case on behalf of a customer with VMware.
When you call VMware to open the case they will request your customer number. Now when they say YOUR customer number they mean it. They are not asking for my customers customer number, but instead my own unique customer number.
What good will that do you might ask?
Nothing unless the customer granted me access to file technical support requests on their behalf. This however is also relevant inside IT departments.
Typical scenario is a company has all their VMware contacts added to a My VMware account named [email protected] or something like that. Good idea, except when you are contacting VMware your name wont be "First name: IT, Last name: Department" 🙂
The right way to handle this is to then add each member of the IT department, that needs access, to this account.
Here is how to do that:
1. Open https://my.vmware.com/
2. Open  Users & Permissions

3. Click the tab "Open By User"

4. Click the little arrow next to Actions and then click Add user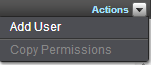 5. Fill out the form and click Continue (Make sure you use your own details)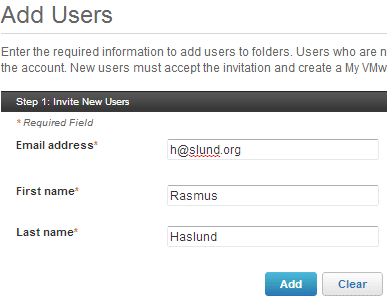 6. Verify the information and click Continue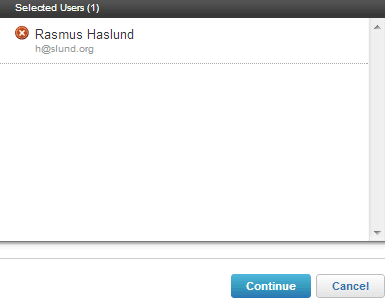 7. Select folder access (usually Home and all available sub folders)

8. Verify data and click Confirm
9. The user invited will now recieve an invitation e-mail and has to logon to his/her MyVMware account and accept the invitation.


10. Once the invitation has been accepted, the invited user should appear under the By User tab. Click the user, then click the Home folder, then click the arrow next to Actions then click Edit Permissions.

11. Check the File technical support requests and any other permissions needed and then click Save.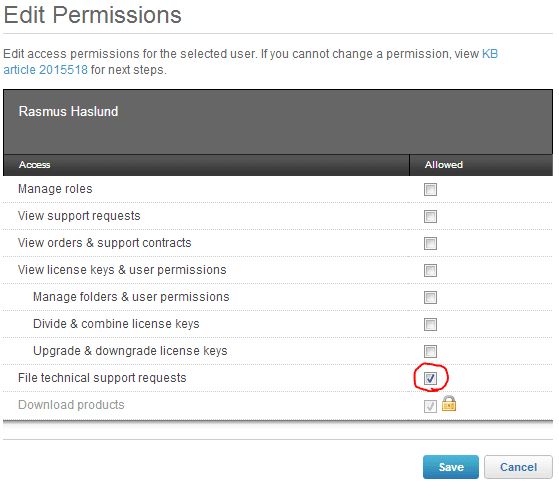 12. Click Save and you are done!
As always, if this post has helped you – please leave a comment 🙂