I rarely do configuration of Microsoft SQL server, as usually someone else will already have installed and configured it before I arrive.
Yesterday however, I arrived at a customer with a new Microsoft Small Business Server SQL server. The installation wizard has been completed but nothing else.
I tried to connect using SQL Management Studio but recieved the following error:


A network-related or instance-specific error occurred while establishing a connection to SQL Server. The server was not found or was not accessible. Verify that the instance name is correct and that SQL Server is configured to allow remote connections. (provider: Named Pipes Provider, error: 40 – Could not open a connection to SQL Server) (Microsoft SQL Server, Error: 5)
As the error suggests, we need to configure the SQL Server to allow remote connections.
Simply open SQL Server Configuration Manager: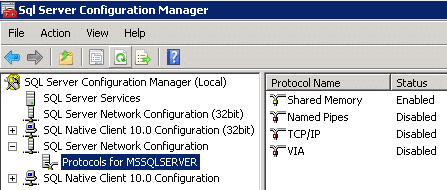 Browse to SQL Server Network Configuration -> Protocols for MSSQLSERVER and change TCP/IP from Disabled to Enabled. Then restart the SQL service for the change to take effect.
As always, if this helped you please leave a comment 🙂