I often get the question, how do I pass the VMCE exam? Well, one very important aspect is to leverage a VMCE 2020 practice exam, however, that should never be your only study material. In this post, I will do my best to provide up-to-date and valuable study materials.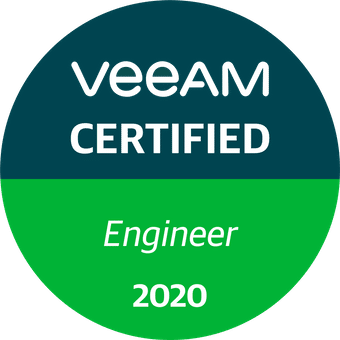 Click here to skip directly to the three VMCE practice exams.
First things first, do you want to become a VMCE aka Veeam Certified Engineer? Awesome! The first thing you will need to do is attend the official course which is currently called Veeam Availability Suite v10: Configuration and Management and you can find the official course description here.
During the official course you will have access to a lab environment, but what do you do once you leave the course? I encourage you to build your own lab! The official VMCE lab environment runs on less than 50 GB of memory so it is not unrealistic to build something similar. If you are not sure how to get started please check out my home lab video series on YouTube.
My personal top 8 tips for quickly getting started are:
Watch the feature overview webinar for v10
Read the What's New in v10 documentation
Read the release notes for v10
Spend time reading the User Guide (Hyper-V)
Spend time reading the User Guide (vSphere)
Review the official study guide
Lab lab lab, having hands-on experience is a must!
Test yourself using practice exams
VMCE Practice exam:
Note: For fun, you can take a look at historical VMCE practice exams in my archive.
Please remember, the idea behind using a VMCE practice exam is to find your weak areas and study hard on them before sitting the real exam through Pearson VUE.
Important: Passing this VMCE 2020 practice exam does not mean you will pass the real exam. This is a study tool!
Option 1: (Scenarios)
This VMCE practice exam is mainly based on scenario type situations.
Option 2: (The hard one)
This VMCE practice exam is not scenario-based but rather to the point questions.
Option 3: (The official one)
Veeam has an official offering currently hosted on their ProPartner portal. Unfortunately, this means the practice exam is only available for people with a ProPartner account like partners and employees.